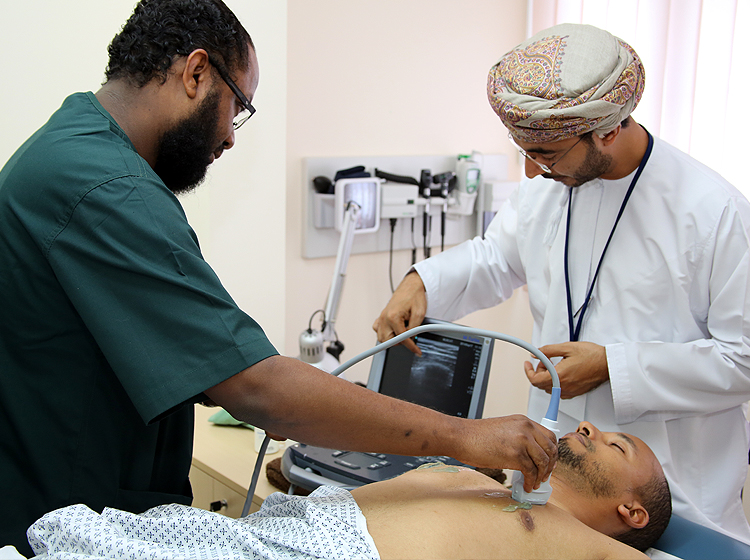 The use of Point-of-Care Ultrasound (POCUS) has expanded tremendously in the last 10 years. Initially, POCUS was limited to FAST in trauma patients. Now, it has expanded to many other clinical applications like shock, shortness of breath, resuscitation, etc. becoming an essential diagnostic tool in the armamentarium of front line acute care doctors.
This is an " essential" course to learn ultrasound and is designed ti give the novice practitioner a solid grounding in the basics of acute point-of-care ultrasound.
Basic principles of ultrasound physics, knobology and artifacts
Probe manipulation techniques
Scanning protocols in:

Abdominal Trauma (FAST)
Pneumothorax and Pleural Effusion
AAA
DVT
Hepatobiliary and Renal
Basic Echocardiography
Learning Objectives
At the completion of the course, learners will be able to:
Learn the principles of Point Of Care Ultrasound (POCUS)
Learn how to POCUS with the advanced life support protocols (ACLS and ATLS)
Learn a systematic and comprehensive assessment of your critically ill patients using the familiar "ABCDE" approach.
Course format
Interactive lectures focused on practical techniques
Over 10 hours of hands on practice on live models and simulation.
1:5 Trainers to Trainee ratio.
Lectures and Skills Stations
Airway assessment
Lung ultrasound
Basic Echocardiography
Gall bladder and renal ultrasound
EFAST
DVT assessment
Use of POCUS in shock and acute respiratory distress
Target Audience
The intended candidates are physicians who may encounter critically ill patients.
The JS beautifier will take care of your dirty JavaScript codes, assuring a syntax error-free solution.
Provider Course Details
Certification: Completion certificate will be issued.
Registration Fee: 100 OMR (inclusive of course materials, certificate, lunch and refreshments)
Course Date: April 19-20, 2020
Contact
For more details please contact:
Mark Joseph Diangson (Coordinator)
Tel No.: Tel No.: +968 24181647 / +968 24181110
Email:
mark.s@omsb.org