Overview of the Department
The Education, Curricula and Accreditation department is charged with the overall educational process within residency programs. As such the department, in collaboration with the Education Committees of the various programs, works on developing educational programs and curricula, ensures that an appropriate assessment system exists, and provides overall monitoring and evaluation through facilitation of local and international accreditation programs.
The Department of Education consists of four sections:
• Curricula Section
• Assessment Section
• Residents & Faculty Development Section
• Local & International Accreditation Section

Mission
The mission of the department is to enhance graduate medical education at Oman Medical Specialty Board.

Vision
Quality Healthcare through Quality Medical Education.

Values
The vision and mission are supported by the following values

Main Values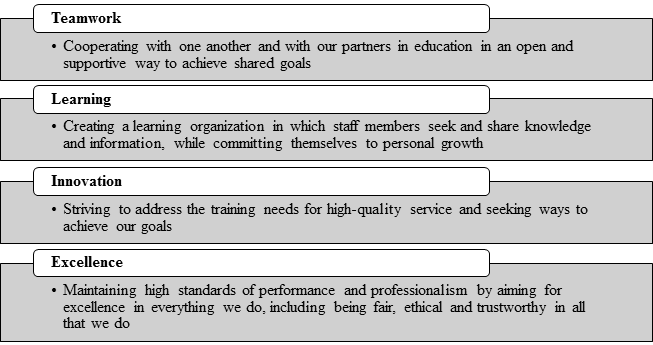 Core Values:
The development, implementation, and maintenance of education programs are guided by our core values. The Education Department deals with all the educational & academic aspects of residency training programs which include but not limited to:
• Develop, maintain and support medical education system and training in OMSB
• Provide a means for quality medical education of an advanced level
• Provide guidance in monitoring the residency programs and assist the program administrators to configure the monitoring system (New Innovations).
• Produce personnel with specialized knowledge and skill of an advanced level for the health services and for teaching and research in the medical sciences
• Encourage continuous self-education, foster a spirit of inquiry and research into medical problems, and also to provide the means and the intellectual environment where in such inquiry and research may be better undertaken.
• Evaluation of educational program outcomes for accountability and to uniquely make a scholarly contribution in the area of educational development, organization, and administration.
As part of the effort to facilitate for Education's mission and vision, the team dedicates significant effort toward innovation and programmatic development. The purpose of this effort is:
• To develop, implement, and help in evaluate education programs in order to address the needs and challenges of trainees, faculty and other OMSB staff.
• To support, enhance, and headline the research and teaching efforts of Faculty and the scholarly accomplishments of our trainees.
• Coordinate and improve resident and faculty development and clinical teaching opportunities.